... But I'm still going to talk some trash.
Whether you are seasoned biker or simply
a poser
have friends with Harley's
that's right, other bikers are NOT welcome! British Wags!
, a sophisticated biker-themed
oxymoron
bash is a fun way to spend a spring or summer afternoon
because biker events never go into the night, ever
- especially when the grill menu includes succulent, spicy
there's a plus
baby back ribs and steamy packets of crisp-tender tangy vegetables
Opps, you just lost the plus you had gained. There should be ONE single TANG at any biker party, period
. Here is everything you need to know - from décor
seriously?
to games
What?
- to throw the best Biker Babe bash on the block.

giggle, on the "block"? wtf?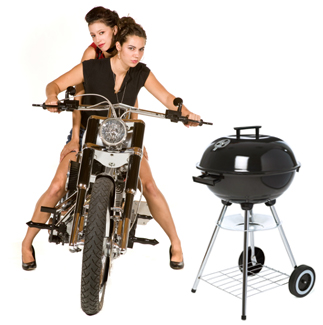 The
Sandra Lee
(she's in porn or something right?)
Semi-Homemade Grilling 2
cookbook has a delectable array of grilling recipes and party themes for delicious and fun outdoor get-togethers. For the Biker Bash, Lee suggests a buffet is the way to go. Gather your friends – clad in biker black attire
(Sounds like someone is a closet leatherette? Guess she can only really come out through making excuses about "cooking"?)
– around a hot grill and gleaming Harley and let the biker games begin.
Live To Ride, Ride To Live!
BIKER BABE BASH ESSENTIALS
Place Settings:
Set your tables with sleek black and white tableware and biker-centric place cards. Lee suggests chic black and white toile plates paired with square black chargers, black handled silverware and black, fanned napkins to make a sophisticated place setting.
Holy MUCK are you reading this?
For unique place cards, glue a row of three dice to the front and back of a playing card, write the name of each guest on a card and stand by each plate.
Tablescape:
Match the shiny Harley chrome by using silver serving platters and serving ware, glasses and a cake stand with silver stems, silver or glass candlebras
I dont even know what a candlebra is, although I've been to a "party" where a girl in a bra used a candle... that's a long story and I'd have to know you pretty good to share that one
. bearing tapered black candles and a shiny silver silk remnant as the table cloth.
Games:
Entertain guests with inexpensive black and white tic tac toe boards, poker chips, playing cards, chess games and bowls filled with dice. Games are a quintessential party must and they make nifty party favors for your guests to take home when the party is over.

I think I'll take a pocket full of chess pawns home with me to remember this festive event.
Menu:
A sophisticated party deserves a succulently stellar menu.
That's some heavy Star Trek lingo she's using... I'm not even sure what she's talking about?
Serve baby back ribs and vegetable packets alongside glasses of BV Coastal Estates Merlot
Umm, NO
., another delicious but
economical red wine
again No
or even
wine spritzers
HELL NO

. For your guests that prefer a beer, let them bring their own
craft brews
So this is a BYOB thing now? How snooty is that? Not very, more like Cheap Wusstards
. For a sweet finale, buy or make white or chocolate cupcakes and ice with a contrasting chocolate or cream cheese frosting. Continue the black and white theme by decorating the cupcakes with black and white striped or polka-dotted candles. Lee suggests accenting the cupcake frosting with almond extract for a fab flavor boost.
Ok, replace cupcakes with strippers and/or hookers, in the same "black and white" variety, replace frosting with another more natural substance, replace polka-dotted candles with say, I don't know, maybe dildos(?), and replace "almond extract" with (again) another (artificial) substance, and NOW you've got yourself the makings of a biker Bash! Forget the table cloths, silverware (they'll steal it anyway), other unnecessary stuff mentioned above, definitely pass on the wine, merlot, and spritzy drinks, buy three or four cases of Coors (or like brand) and let the rest happen naturally....
And YES, this was a REAL article I found HERE on the Dweebweb, it's pretty much the "Biker" life that's out there. Resistance is futile...